New MOTUS 2 Bluetooth USB silencer with latest generation 100% contactless optical sensors !
Play in peace without disturbing your neighbors!
Our new Motus 2 optical silencer represents a real technological breakthrough in this field, the world's first system to dispense with the traditional case. By offering total transparency thanks to the Bluetooth version, your piano retains its original appearance, the electronics being located in the bottom of the piano inside. You can access multiple functions easily with your Android Smartphone, choice of 128 instruments on drop-down menu, slider for volume control and reverb, recording, metronome ... etc.
Great progress also in terms of realism and audio quality, Motus 2 shipping up to 8 GB of sound banks, never seen on a silent system. It has a unique feature in the world that allows you to update the 8 GB of flash memory with a simple USB key after downloading the latest version with the most advanced instruments. Motus 2 is equipped with a high-end DAC AKM delivering outstanding sound depth, especially in the bass register.
Available in case version for pianists who do not have an Android Smartphone ...
We can of course adapt it to all the pianos we sell, new or used. Finally, if you already have a upright or grand piano and want to equip it with our system, the MOTUS 2 muffler can be easily installed by the nearest authorized technician.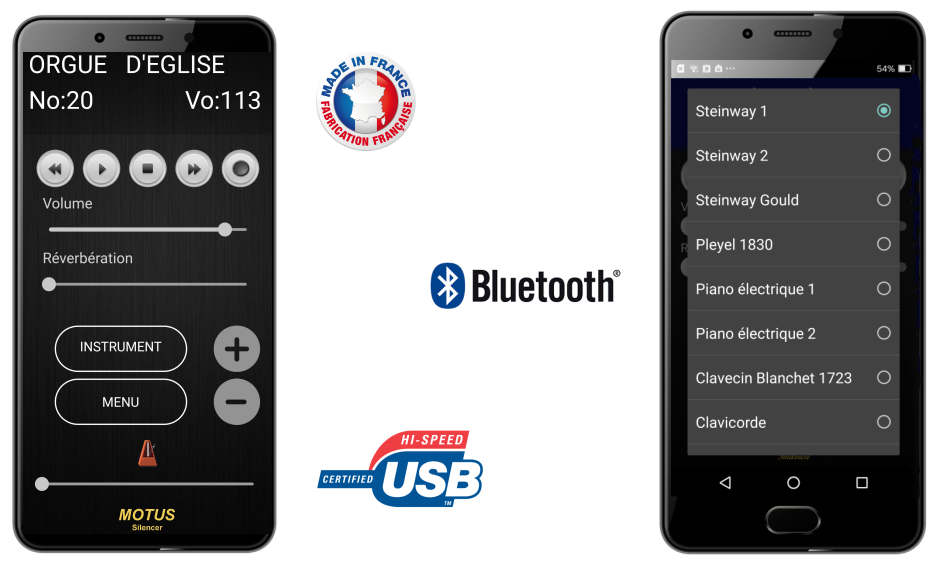 Feel free to install and test the application by going to Google Play with the keywords: 'CHAVANNE MOTUS'.
Classic box version

If you do not have a Smartphone or Android tablet, you can opt for a small box located under the keyboard on the right. A 16-character 2-line LCD display allows you to easily use all the functions of Motus 2.

USB host and device output on the right side, headphone jack and audio line out on the left side.
100% optical reflection technology of the latest generation!
Our new ultra-slim 3.5mm reflective optical sensors are a revolution for installers of silent systems, easy and quick to install, they allow installation on all types of pianos.
Only one technology is reliable to date, it is the technology of 100% contactless optical sensors that we use on our Motus muffler and found on the major Japanese brands in factory installation. No lever, no spring, the reflection sensors analyze with great precision the speed of approach of the key in order to calculate the dynamics, without any physical contact with the key!
Motus 2 does not really have an equivalent on the market in terms of acoustic realism and variety of pianos and harpsichord available, it is obviously on these two instruments that we put all our energy to give the illusion almost total to play in acoustic mode!
| | |
| --- | --- |
| | The first two pianos are modern Steinway D sampled with the utmost care. One is clearer, the other is rounder ... |
| | |
| --- | --- |
| | Remarkable sampling by an American Steinway piano studio by Glenn Gould currently at the National Arts Center in Ottawa. We will recognize the exceptional clarity typical of the American Steinway's timbre of this period, as well as the typical and very brilliant harmonization demanded by the legendary pianist ... |
| | |
| --- | --- |
| | For lovers of historical sounds, we sampled a concert Pleyel from the time of Chopin! There is of course a world between it and the beautiful bank Steinway, but the experiment will take you back in time hearing a sound of time ... |
| | |
| --- | --- |
| | The sampled instrument is a real Baroque harpsichord, Nicolas Blanchet 1723, on 5 octaves just like the original . |
The "touch" of your piano is perfectly preserved

To make your piano quiet, it is necessary to stop the hammer 4 mm before it strikes the rope, this is achieved thanks to a perfectly rigid blocker operated by the central pedal, as you can see in the picture below. against. The "touch" of the piano is much better in this case than when using a conventional mute, as the blocker returns the hammer with the same elasticity as a string, the great defect of an ordinary mute is in shock effect, this feeling is very unpleasant for the pianist. Our 100% optical sensors without lever or spring have no impact on the touch of your piano.
CONNECTING AND FUNCTIONS:
MIDI: Standard connections to all MIDI instruments, expanders, samplers, synthesizers, digital pianos, computers ... etc.
AUDIO OUT: Connecting to a Hi-Fi system amp or speakers powered by a 3.5mm mini jack.
PEDALS IN: Connector 1x9 to 3 pedals (Strong, Soft).
HEADPHONE OUT: Headphone mini jack 3.5mm, possibility to connect two headsets with splitter. Headphone provided.
POWER SUPPLY IN: 9V DC 800 mA standard. 220V adapter supplied.
USB HOST: Connector for USB drive for recording and updating.
USB DEVICE: To connect directly to a computer via standard USB MIDI protocol.
METRONOME: Integrated, sound of a real traditional metronome.
RECORDER: 128000 notes, export to USB drive in standard MIDI file format.
128 INSTRUMENTS: Standard GM
Installation on your piano:
If you already have a piano and want to equip it, the MOTUS 2 silencer can be easily installed by the nearest authorized technician. The cost will depend on the type of piano, thank you for contacting us.
Download:
Installation manual format PDF.
MOTUS PIANO SYSTEM 19 Avenue Hermès 31240 UNION - FRANCE -
TEL: +335 34 30 18 94 GSM: +336 85 43 78 49
Email: info@motus-silencer.com Access map